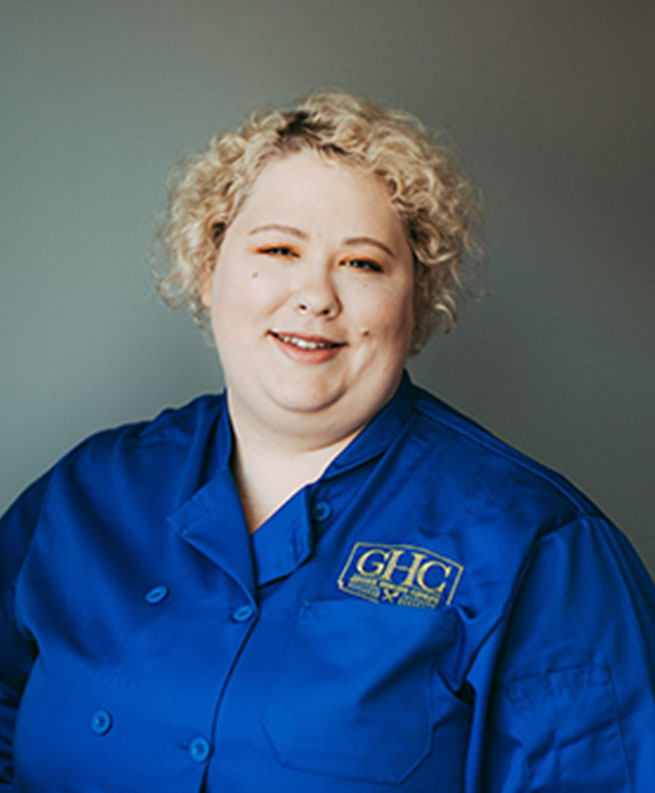 ABIGAIL LORTZ
Campus Manager
Abigail received her culinary degree from Clark College in Washington and started with the Blue Coat Army in 2017. She immediately impressed her sorority house and the Greek House Chefs team with her baking skills and friendly personality, and recently earned the title of Campus Manager at Washington State University.
Abigail's love of cooking was instilled in her by her mother, who made everything—and we mean everything—from scratch. (Abigail didn't even know what a cake mix was until she started doing her own grocery shopping and saw one in the store.)
As a teen, she discovered Jamie Oliver and Alton Brown, who helped her realize cooking was a career choice. Then, after eating at Emeril Lagasse's restaurant NOLA in New Orleans, and taking a cooking class on the same trip, Abigail's love for cooking and her dream to be a chef was solidified.
In her time at Greek House Chefs, Abigail has wowed her Chapter Members with made-from-scratch desserts, over-the-top Christmas din­ners, and unbeatable "Build Your Own" bars. Next time you're on Washington State's campus, drop into a kitchen—she'll probably be there whipping up sweet treats for one of her Chapter Houses.