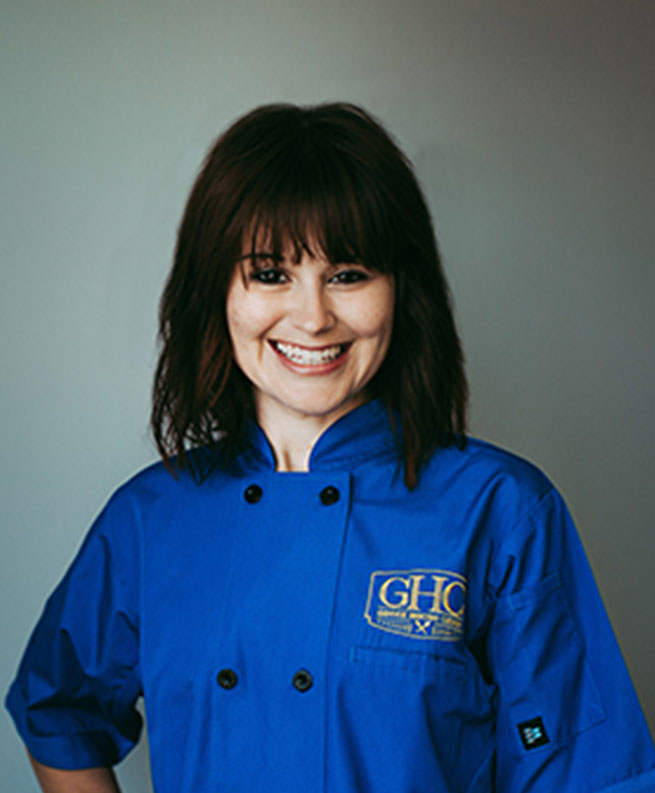 Favorite Food to Eat:
Tacos. I mean, is there anything else?
JENN GREEN
Assistant Campus Manager
Chef Jenn has a thing for tacos. And who can blame her? She became an elite Blue Coat Chef in 2017 and is now a sorority chef and Assistant Campus Manger at Kansas State University in Kansas.
Jenn brings a plant-based philosophy to her kitchen thanks to her training at the National Gourmet Institute where she studied health-supportive culinary arts. Throughout her career, she's learned from chefs like Fran Costigan—even testing recipes for Fran's cookbook. Jenn also gained experience at restaurants, including Watercourse Foods in Denver and Harry's in Manhat­tan, KS.
Jenn loves working for Greek House Chefs because the job allows her to challenge herself with new recipes. She also genuinely appreciates talking with the sorority women, introducing new dishes, and getting immediate feedback. (And we're pretty sure the Chapter Members love it, too.)
Catch up with Jenn and ask about her latest taco creation next time you see her on the Kansas State campus.
If you could eat at any famous Chef's Table, whose would you eat at?
Julia Child. I wouldn't say it's be­cause I love French cooking, but I loved that she was always true to who she was. She'd laugh at her mistakes and move on, never letting any obstacles get in the way of her goals.
Favorite Food to Eat:
Tacos. I mean, is there anything else?