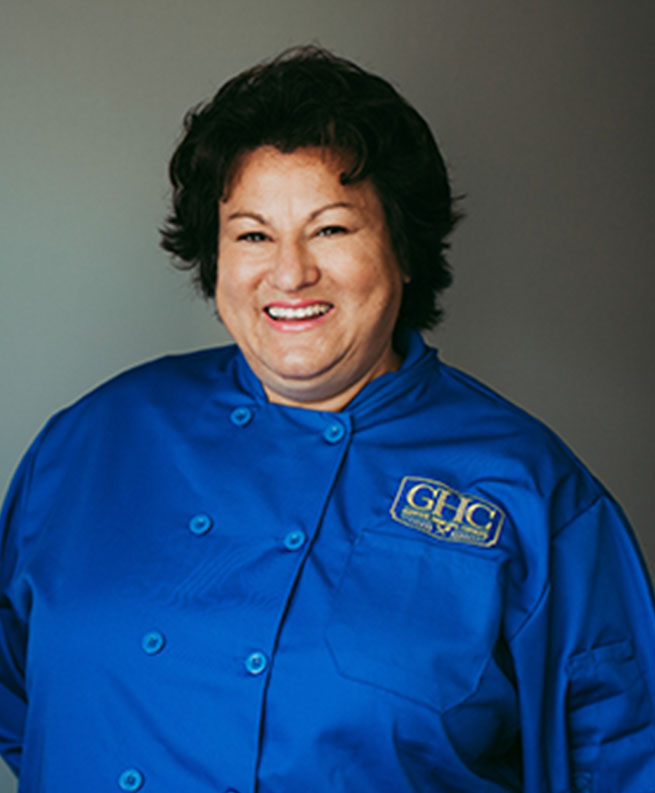 RHONDA CAMERON
Assistant Campus Manager
When you want to bring students home for dinner, look no further than Rhonda. A beloved member of the Blue Coat Army since 2017, Rhonda began as a fraternity chef and is now an Assistant Campus Manager at Kansas State University.
A natural born leader, teacher, and mentor to not only her team, but also to the students on campus, Rhonda travels to other Greek House Chefs' kitchens across the country teaching ServSafe and training our chefs on our exacting standards.
Rhonda brings more than 20 years of experience to her Chapter Houses in all different facets of food service—from running her own restaurant, to fine dining, cake decorating, and banquet and event services. Is there anything Rhonda can't do? (Spoiler: There is not. She does everything.)
Rhonda's favorite part of working for Greek House Chefs is interacting with students. She loves preparing a meal and seeing their reactions as they sit down together to eat.
How did you get started in the culinary industry?
I got my start as a fine dining line cook in Wyoming, and worked my way up from there.