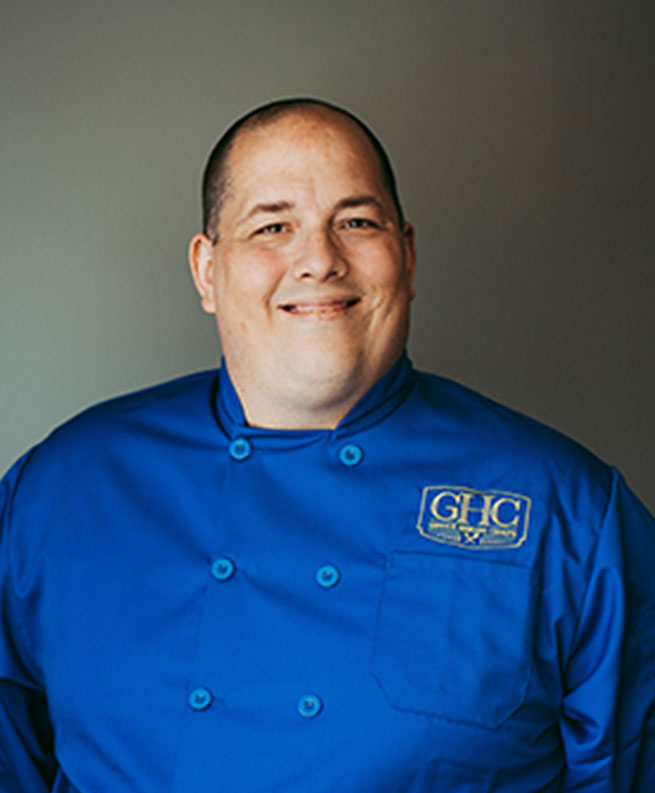 Favorite Food to Cook:
Pad Thai
RYAN KEARNEY
Campus Manager
Ryan started with the Blue Coat Army as a fraternity chef and in his current role as Campus Manager, brings more than 20 years of food and leadership experience to the Chapter Houses he serves.
Ryan understands the importance of exploring new flavors and encouraging students to try new foods. And he should! He grew up in Europe and fondly remembers Saturday markets filled with new- and old-world ingredients mixed together to create flavorful street cuisine. Now he works at Greek House Chefs bringing European inspiration to more than 20 houses at Iowa State University.
When Ryan was just 13, he became interested in cooking and took his first class so he could help prepare family dinners. Around the same time, his 8th grade Culinary Arts teacher began mentoring Ryan and helped him become the chef he is today. (Thank goodness for great teachers!)
Ryan is always willing to lend a helping hand to his team in kitchens all over campus, so don't be surprised if you see him in yours.
Favorite Food to Cook:
Pad Thai