What can you expect from Greek House Chefs? Simply put, great food, but we are so much more than the food. You can expect a trained chef, a clean kitchen, a friendly face to greet you each day, insurance to cover accidents in your kitchen, a promise of uninterrupted service if your chef is sick, multi-level management to ensure quality service, access to our custom-made app, and much more. Read more below for a look at our day-to-day food service options.

For breakfast, your Chapter has a few different options for the style of service. You can choose Continental, Hot Breakfast, or a combination of the two.
Continental Breakfast
Continental breakfast is designed to fit the early risers, the on-the-go, early to class, get-up-and-go Chapters.
You can expect to see items such as:
variety of cereals
variety of bagels and cream cheeses
granolas
fresh fruit
assorted breakfast bars
homemade yogurt parfaits
other grab-and-go snacks and breakfast items.
Hot Breakfast
With this service, you receive everything that you would with Continental (so those early risers always have something to eat) and you will also have hot options for breakfast.
You can expect to see items such as:
made-to-order omelettes
made-to-order eggs
pancakes
waffles
made-from-scratch cinnamon rolls
breakfast casseroles
biscuit sandwiches
breakfast wraps
assorted fresh fruit

Lunch will typically include a fully-stocked fresh salad bar that will include fresh veggies, nuts/croutons, multiple protein options both meat based and vegetarian friendly options, and made-from-scratch dressings. Alongside the salad bar, you will find items such as:
homemade soups and assorted sandwiches
build your own tacos with all the fixins
build-your-own buddha bowls
hand breaded chicken tenders with assorted house-made sauces
build-your-own burger bar with lettuce, tomato, onion, pickles and assorted sauces
gourmet grilled cheese with house-made tomato soup
assorted wraps
two accompanying sides such as pasta salad, fresh seasonal veggies and fruits, etc.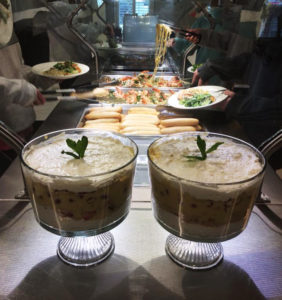 At Greek House Chefs, we know that dinner is often the only time that your Chapter is able to gather together. That's why our Blue Coat Chefs put their heart and soul into the food. Dinner is what will bring your Chapter together to bond over a home cooked meal. Our trained chefs design the menu based on Chapter favorites, cravings submitted through our app, seasonal items, and new foods to expand your flavor palate.
You can expect to see:
two entree options
two sides
from-scratch desserts
Can't make it to dinner?
No problem!
---
Request a Late Plate through our app and we will make sure you can still enjoy a delicious home cooked meal. You can submit a Late Plate for a one-time request or set up a recurring request if you have a late class each week.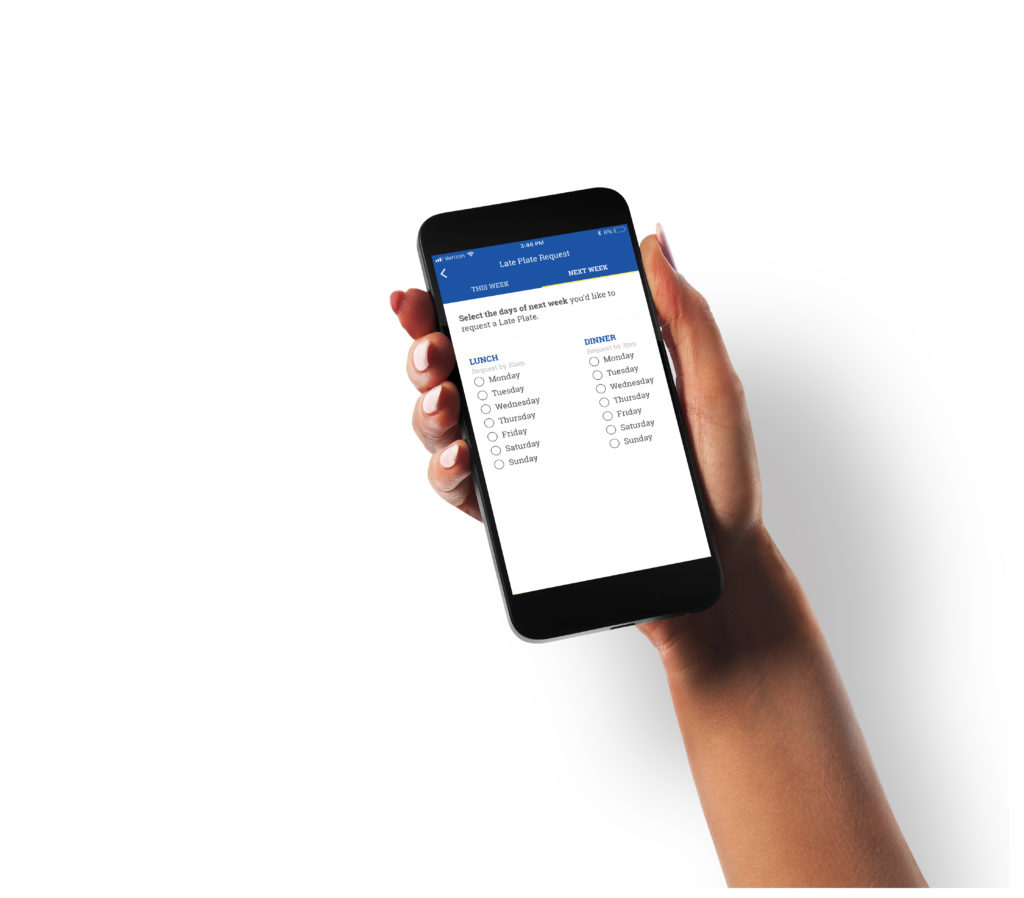 What about
Food Allergies?
We know that food allergies and dietary restrictions are becoming extremely prevalent in the world today. We also know that it can be very difficult to accommodate so many allergies and restrictions, but that's why they call us the pros. Our chefs are trained to deal with a variety of restrictions such as gluten, lactose, soy, eggs, wheat, and that's just the tip of the iceberg! We will work with your Chapter to make sure everyone can come to dinner and have food to enjoy.