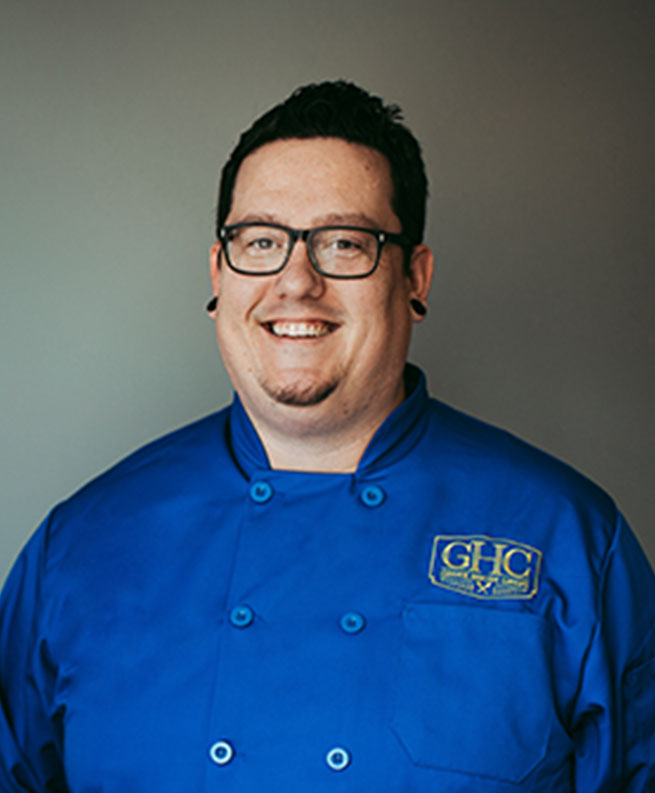 CHRIS JOHNSON
Campus Manager
Meet Blue Coat Chef Chris. He's a BBQ Pit Master, a sauce boss, and a great leader, serving as Campus Manager to more than 15 houses at Kansas State University.
Chris got his start in the industry at the age of 13 when he became a dishwasher at his friend's family restaurant. After years of hard work (and thousands if dishes washed) he proudly graduated from Le Cordon Bleu. Chris then worked in restaurants like the Pied­mont Driving Club in Atlanta, Georgia, one of the oldest and most presti­gious private clubs in the South.
At an early age, Chris learned a lot of his cooking skills by watching his grandmother who—thankfully—let him help her in the kitchen. To this day, Chris appreciates the opportunity his grandmother provided because it helped shaped his dream of becoming a chef.
Chris's favorite part about working for Greek House Chefs is the family envi­ronment. He knows that he has a world of resources and support behind him every day, which allows him to be an extraordinary leader for his team.
Do you have any notable food experiences or places you have eaten that have inspired you as a chef?
When I was in West Africa, it was really inspiring to see all the peo­ple selling food on the roadside, from make-shift grills and stands. It was some of the best food I've ever had. It just goes to show that when you have the love of food to share, you will share it by any means possible.