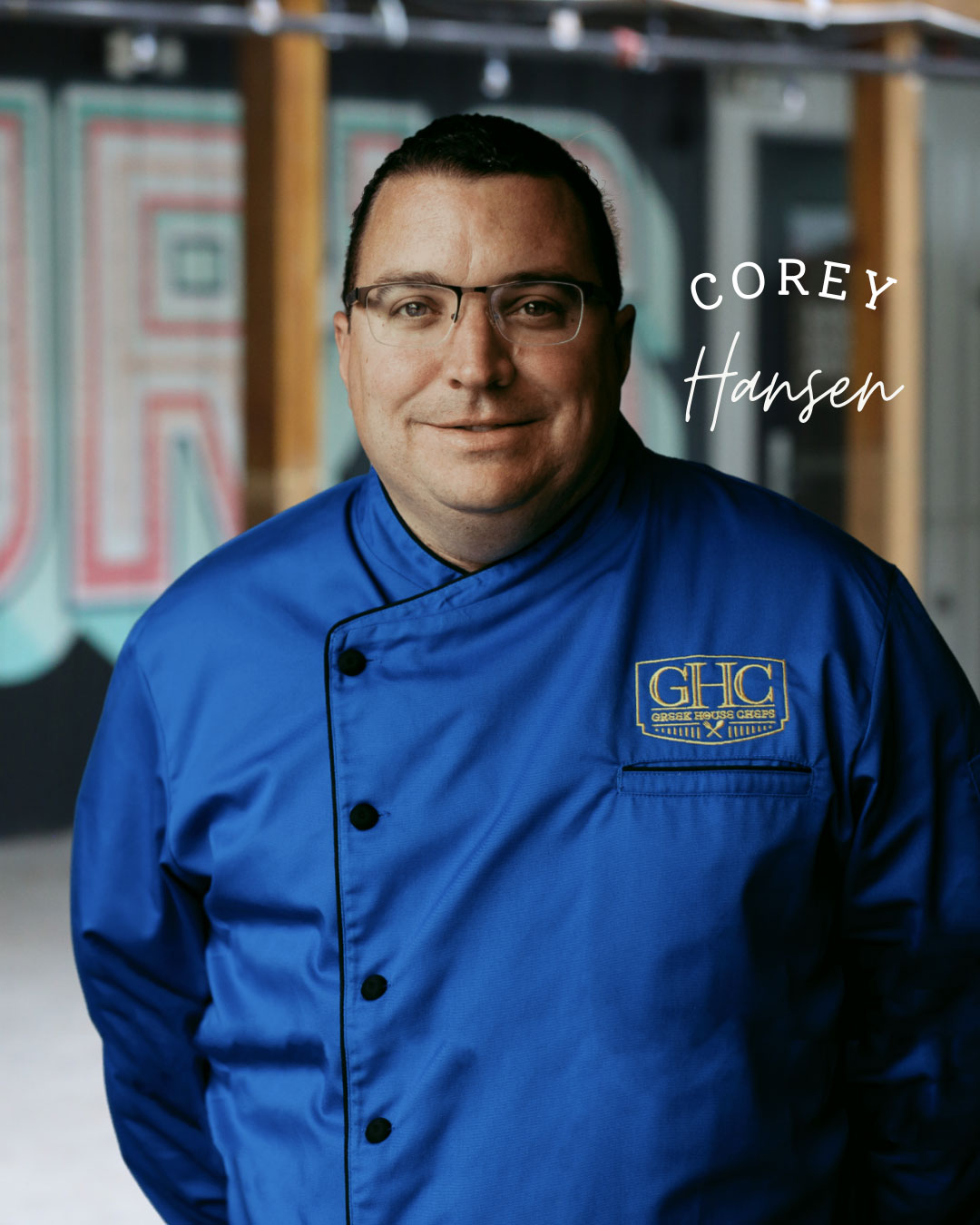 A NOTE FROM THE OWNER:
My name is Corey Hansen and I am the Owner and Operator of Greek House Chefs. I am passionate about my business and I take pride knowing that Greek House Chefs offers chefs across the country an opportunity to get out of the grind and reinvigorate their passion for cooking. I strive to lead by example to all of my employees nationwide and I can't imagine not coming into the office or our kitchens every day and experiencing Greek House Chefs exactly how I dreamt it to be. If you are a chapter in need of better food and personalized service, I look forward to meeting you! Sincerely, Corey Hansen
COREY HANSEN
Chef & Owner
Corey Hansen is the mastermind behind Greek House Chefs, bringing more than 20 years of experience in the food industry to the houses we serve. (That's a lot of delicious meals!)
When Corey was 15 years old, his home economics teacher saw that he had a gift for food preparation and told him he should consider Culinary School after graduation. So, he did! Throughout Culinary School, he worked at five-star restaurants where he trained under talented chefs and learned about the importance of fresh ingredients.
Upon graduation, Corey gained additional skills working with different teams, preparing new dishes and serving a variety of customers at acclaimed restaurants around the country—ultimately sparking his interest in becoming an entrepreneur. Corey then made his way to Iowa where took a job as a chef at a popular restaurant. That's where he met his wife, and soon-to-be business partner, Carey Hansen.
After starting a family, Corey realized that the restaurant industry didn't allow him enough time at home, so he took a private chef position with Gamma Phi Beta at Iowa State University. It turned out to be the second-best decision he'd ever made.
After a short time at the House, Corey saw that other Chapters didn't have the standard of service he provided to Gamma Phi Beta. He also saw the need for higher quality food service on ISU's campus—and Greek House Chefs was born! What began as great food service at one house on campus, is now Greek House Chefs, serving 133+ houses across the nation.
A NOTE FROM THE OWNER:
My name is Corey Hansen and I am the Owner and Operator of Greek House Chefs. I am passionate about my business and I take pride knowing that Greek House Chefs offers chefs across the country an opportunity to get out of the grind and reinvigorate their passion for cooking. I strive to lead by example to all of my employees nationwide and I can't imagine not coming into the office or our kitchens every day and experiencing Greek House Chefs exactly how I dreamt it to be. If you are a chapter in need of better food and personalized service, I look forward to meeting you! Sincerely, Corey Hansen