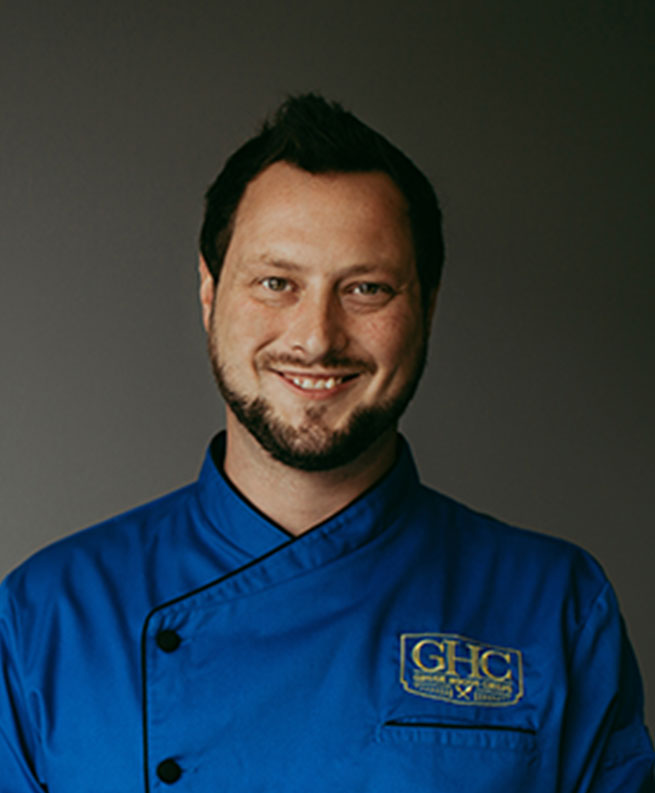 Favorite Food to Eat:
Chicharrones
DUSTIN DEL GROSSO
Assistant Campus Manager
"Call Dustin." That's a phrase we use often at Greek House Chefs because Dustin is our reliable, responsible, remarkable Traveling Chef. Whenever a chef is unable to cook or needs additional help with a special event, Dustin is the first one on a flight, ready to lead a helping hand, or two, or three.
Dustin started as a Blue Coat Chef at a sorority house at Iowa State University in 2016. From breakfast and butchery to brew pubs and fine dining—and everything in between—Justin's culinary knowledge is never-ending. He's even the guy you turn to for amazing bread recipes. Trust us.
Have you had one of his Cubanos? Dustin's Cubanos will be famous one day, we guarantee it. Even Greek House Chefs owner, Corey Hansen says his Cubanos are the best he's ever had. Ever.
If you could eat at any famous Chef's Table, whose would you eat at?
I think I would want to eat at the table of David Chang or Gennaro Contaldo, just for the entertainment factor, which is every bit important as the food we would eat.
Favorite Food to Eat:
Chicharrones